Laura Darrell has been acting professionally (and happily) since the age of 10. Last year she made her AMC debut as Anna, (member of the feminist terrorist group, The Jennifers) in AMC's new series Dietland, followed by another recurring role, Sister Lee, on SYFY's second season of Happy! starring Christopher Meloni, which premiered in March 2019!
Laura can also be seen in the independent feature films, Creedmoria, winner of Cinequest's 2016 Jury Award for Best Narrative Feature Comedy and Sundance favorite, That's What She Said, starring Anne Heche and Alia Shawkat. Festival shorts and web series include A Writer's Retreat, Missed Connections, The Dressing Room, The Waiting Room and Bad Kitty.
Other recent credits include closing Barrow Street's acclaimed London Transfer, Off-Broadway production of Sweeney Todd, Encores! The Golden Apple at New York City Center and the New York premiere of the John Kander - Greg Pierce musical, Kid Victory at the Vineyard Theater. Her voice can be heard on the original Off-Broadway cast album, as well as that of Frozen Live, in the role of Anna, which she originated at Disney California Adventure's Hyperion Theater.
A graduate of the British American Drama Academy in London, where she focused extensively on Shakespeare, Laura studied at NYU's Tisch School of the Arts before transferring to USC, where she graduated Magna Cum Laude and Phi Beta Kappa with a BA in Dramatic Arts. She studied improv and sketch at Upright Citizens Brigade and acting with Heidi Miami Marshall, Austin Pendleton, Chris McGinn and Kate McGregor-Stewart.
"First rate performer Laura Darrell does nicely as a possible romantic interest for our sexually conflicted hero."
"…exciting new finds (in particular Ms. Darrell, the most unselfconsciously endearing Cinderella imaginable). Not only can [she] act, but [she] can sing, too, negotiating [her] demanding vocal part without a hint of discomfort."
Terry Teachout, Wall Street Journal
"Laura is one of the most gifted singing-actors it's
ever been my privilege to work with..."
John Kander, Composer of Cabaret and Chicago
"An exuberant comic vitality that keeps the viewer engaged."
Watch Laura's film work, which encompasses an AMC TV series, a SYFY series, festival shorts and award winning comedy features.
"Laura Darrell delivers the tongue-twisting Stephen Sondheim lyrics of chaste Maria's solo flights with angelic pipes."
"Laura Darrell tugs at heart strings with her anguished yet lovely vocals on "I'd Rather Wait.""
David Clark, Broadway World
Laura Darrell is also a top vocalist and voice artist, having studied voice with tony-winner Victoria Clark, Edward Sayegh, and Deric Rosenblatt. John Kander, the legendary composer of Cabaret and Chicago said:
"Laura is one of the most gifted singing-actors it's ever been my priviledge to work with..."
Additional theatre credits include staged readings and workshops with many prestigious companies including The Barrow Group, New York Theatre Workshop, The York Theatre and Ensemble Studio Theatre.
A prolific audiobook narrator, Darrell has recorded more than twenty titles for Audible ranging from beloved children's books to romance and narrative non-fiction. These include the popular Empire Chronicles and The Barking Detective Mysteries series, as well as Ginger Scott and Jenny B. Jones novels.
A proud native of Maine, Laura grew up in a small town outside of Portland called Yarmouth, home of the Clam Festival. Her fundraising work for the Maine Children's Cancer Program through a Maine PBS special, garnered Darrell a New England/Boston Emmy Award nomination. When not busy performing, Laura is a dedicated bookworm who enjoys practicing the flute, yoga, boating and traveling. And in the words of Maya Angelou, "My wish for you is that you continue. Continue to be who and how you are, to astonish a mean world with your acts of kindness."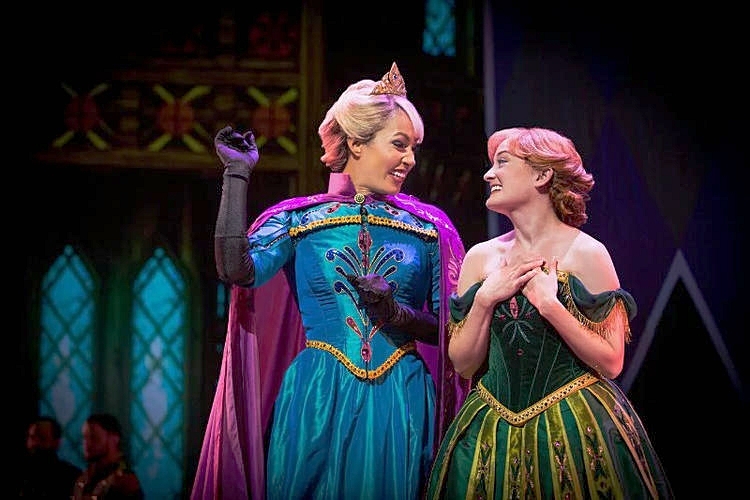 "Anna is terrific and endlessly enchanting."
Ellen Dostal, Broadway World
Listen to one of Laura's vocal reels, which includes a Disney medley, an original Off-Broadway Cast Recording, and more!
CONTACT
Kazarian/Measures/Ruskin TV/Film & Equity (CA) (818) 769-9111
Bill Timms at LAVA Entertainment 646.509.0378/bill.lavaent@gmail.com